I am a believer, that our dreams are trying to tell us something. Not so much that the universe is warning us, but that our subconscious minds are trying to let us know something. Although I can't completely rule out some other worldly presence in my dreams.
Ill tell you why. I dreamed once that some man and me were running from the cops, and we were on this motorcycle, and we drove the motorcycle behind the ruins of this old church that had seashells in the finish. We hopped off the bike, and slid under a fence and left the bike there and as far as I know we got away. I dont remember that part.. I just remember parking the bike and going under the fence mainly.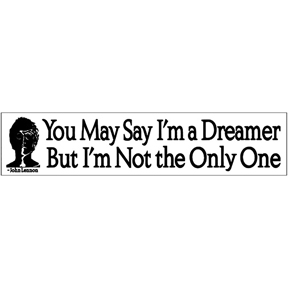 Some time later, a couple weeks, or maybe even a couple months later my family and I go on vacation at the beach, and we pull into the ruins of this old church made of seashells, and I tell my family, I dreamed this place, and I start telling them about my dream, and the motorcycle, and imagine my shock when we walked around the building to find an abandoned motorcycle parked near a rusty fence, and not a soul in sight for the motorcycle to belong too.
Another time I dreamed they build a road through the woods at the edge of my yard. In my dream I saw cars driving on this road. But thats not exactly how it happened. A short time later there were men, cutting trees in the same area, When I went out to ask them what was going on they told me they were cutting a line, apparently the man owning the adjoining property had hired them to survey his place. So same idea they were cutting a path through there. But not a road, and no cars went on it.
There have been a couple other instances where my dreams freaked me out, but I dont want to go on and on about it all. All of this is mainly to eventually get around to telling you about the dream I had last night. I don't know if it means anything, its just that it was one of those vivid dreams that seems so real you think about it for a time, and maybe, as in my case, want to share it.
So im driving down this pot holey road and I tell my kids to call daddy and see if im supposed to take this check to anneewakee or this other place at the end of the road. I don't know if they ever called him. But then they start pointing at a billboard on the side of the road and telling me to look at the picture of our dog in his halloween costume on the billboard. I didn't see it, but i asked them if the people who put it up got their permission to use the picture and they told me yes. (just for the record, we never have put our dog in a halloween costume) So my kids aren't there anymore, and I drive to the end of this road and trough the graveyard, and into the backyard of this house that is very old and fancy and this door, with elaborate carvings has fallen on the ground and I cant get past is so I pic my car up like its an inner tube around me and step over the elaborately carved, pine door that has turned into fat lighter from age, and I park my purple volkswagon bug beside another green volkswagon bug and get out. I don't see people, but I see a motorcycle, and a mans voice telling me the house owners are on vacation, and I say I know that my sister will be here shortly ( I dont have a sister) and the biker freaks a little and says that until she gets here I will be alone with "her" and he is gone. I dont know where. to my left is two brick buildings the space between the buildings is barely wide enough to walk through, but there, between the buildings are some of the biggest most beautiful azaleas ive ever seen, in several different colors. To my right is an old run down building with boxes stacked infront of a window, I look over the top of them and see pillows, and salt shakers, and carious household things and I say looks like nothing I'd be interested in, and then I hear a buzz and I can see a large wasp on the other side of the glass window pane of the old rundown building Then I hear a squawk and look on this shelf directly infront of the building and I see crows nesting in an old pepsi crate sitting on a shelf in front of this window with the wasp buzzing around. (In real life I am terrified of birds) the birds startle me and I back away still watching them and the wasp as I walk away and I say to myself "one day im gonna get up enough nerve to open that door" and then I wake up..
I guess this dream stands out in my mind because most of my dreams are short chopped up dreams, never this lengthy and not usually this vivid.. So I dont know if my subconscious is trying to tell me something or if it was just a meaningless dream. But It seemed shareworthy. Would love to hear your interpretation of it all.
Do you believe our dreams try to tell us something? Do you think its the universe, or just our subconscious trying the get a message across? Do you believe in astral projection? Comment below and tell me what you think, or even what you dreamed last night..