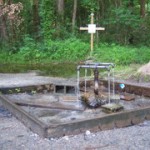 Today we took a road trip to the Blackville healing springs with grandma. She is 82 years old and the most awesome lady in the world.
I have heard stories of people drinking the water and being healed from cancers and of course the story of the british soldiers. My great grandma would only drink this water and she lived to be 93 years old. My own personal experience is there must be something to it. I had a small cut on my arm and I held my arm under the water today and by the time we got home the little cut was gone. There is still a small mark there you can tell I had a cut but its just gone. While we werethere a couple and their small baby stopped in and the mom knelt by the spring and took water and rubbed her baby with it and dad filled baby bottles with the water and them several milk jugs as well. I wanted to ask if the baby was ill, but decided not to. Another man in a neck brace came in while were there and filled a laundry basket full of 2 liter pepsi bottles with the water. Alot of people believe in the miracle of this place and this water. Id be curious to know just how far people travel to get this water.. have you ever made the trip? Do you havea story about the spring or the water?
Just around the corner from the healing spring is a Mennonite school. Calvary Mennonite school, and according to
this site click here
There are only 8 students in the school.. The school teaches grades k-10 one teacher for all 8 kids. I wonder if anyone can go to the school or if it can only be menonites. I think Id prefer my children go to a small school with 8 menonite children that publc or even private school in my area. But thats just me being over protective again i guess.
We had hoped to eat at Miller's bread Basket,
it is one of only 3 resturaunts in the town and is an amish-Mennonite restuarant ran for 20 years by a local mennonite family. But it closes at 2 on staturday so we opted for "Dukes BBQ" which is only open on saturday and sunday and only serves tea and water to drink. It was still good eating and a taste of small town living I guess.
We all enjoyed our visit and intend to go again. What did you do today?
I took some pictures that I will post later. But I hadn't update recently so I wanted to do that..