I wonder what ever happened to PeeWee Herman?
The last I heard I think he was arrested for something that wasn't G-rated. But you know what so did
Eddie Murphy and now he only stars in kid movies.. What's up with that?
I went out and took a better picture of Ryno's windchime this morning and here it is...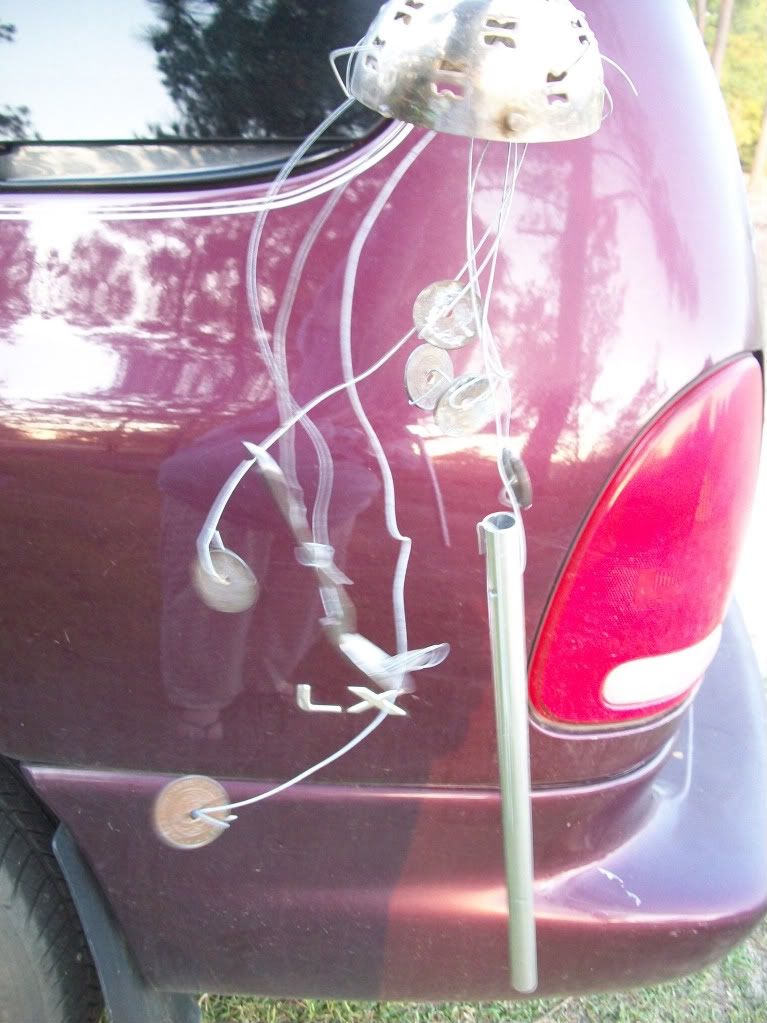 hoe about a big roud of applause for the awesomeness that is Ryno's windchime.. (he used spoons, chuckee cheese tokens, and a recycle wind chime clanky bar, and he did it all by himself. He hs got t be one of the most awesome 8 year olds in the world.
I also tried to get a better pic of my windchime and here it is..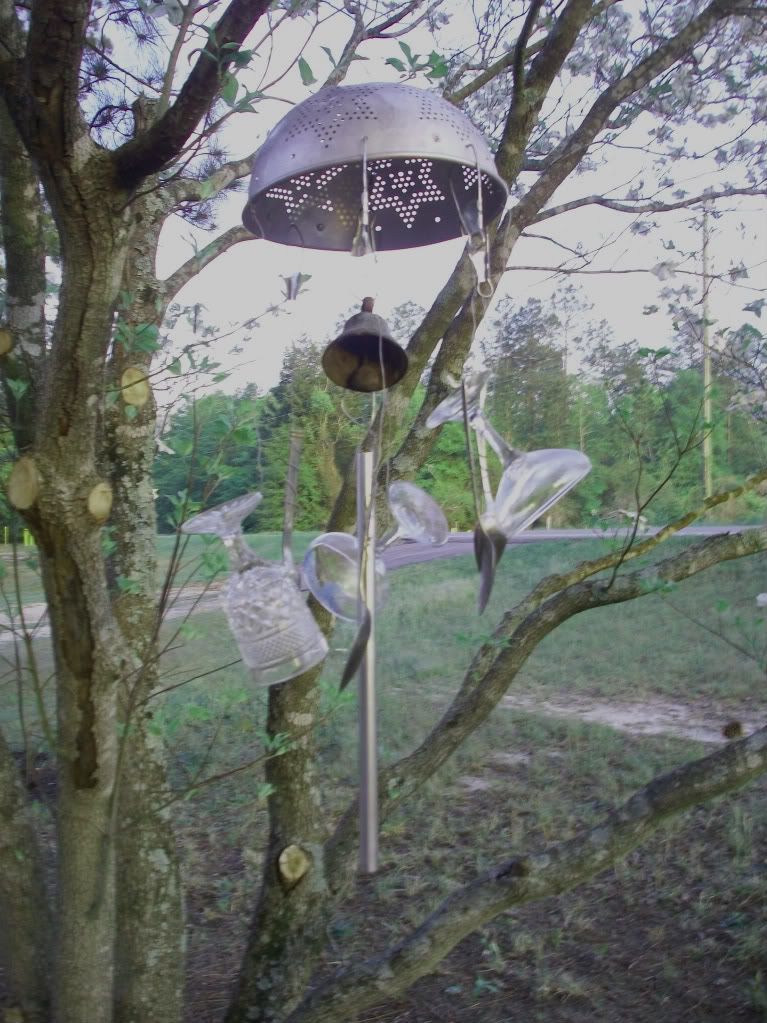 Still waiting for that gale force wind to make it jingle at me tho.. But you shold see th sun through the cut glass.. DY-NO-MITE
But thats not all Ive been working on..
I have made these before just using glue and paint but this time I made flowers usingthe same recipe but painting my flowers on clear contact paper instead of the glass. I did them on contact paper this time because I think I want to stick them all over front outside of my house and I wanted something that would stick but not stick permanently. I think this fits the bill..
These are really simple to make. Like i said you dont have to use th contact paper because the glue will cling itself to any glass surface but for these I used the contact paper because I want to stick them all over the outside of the house..
What you will need:
acrylic paints or food coloring
mod podge
clear contact paper (or not)
(If you chose not to make them on contact paper you can paint you design on wax paper and simply peel off when dry and stick to any glass surface)
Just mix your mod podge and paint paint your design, wait for it to dry and then peel the backing of the contact paper and stick to whatever surface you would like
**note: the more mod podge you use the more transparent youimage will be, if you chose to not use contact paper you are limited to the durface your image will stick to. Mirrors and windows will work without the mod podge but most other surfaces wont. you want to just blob your paint on. sort of like stippling the light and dark areas are what catch the light in such a magical way. Just dob and stipple.. or finger paint and smear.. dont try to paint nice even coats.. thats pretty boarinf for a suncatcher.
If you have questions about this projest you can ask them here or send me email to lissame73@gmail.com
I have also been working on flowers Im making from silicone cupcke cups..You could also tweak this project to use with paper cupcake cups for some indoor project. I haven't decided on what to use as a center so they are not done, but done enough to give you an idea of what Im up to.. any ideas how to back them?? a stick for garfen stakes?? a pin for a brooch? what do you think would work best?
well.. thats about all the crafy goodness I have to offer up at the moment but I look forward to reading your feedback so don't hesitate to leave a comment, an idea, a thought abuot what Ive been up to..
and I hope you all have a craftasic day/